In 2014 Nadia received her bachelor's degree in Animation from the Willem the Kooning Academy in Rotterdam. Beren op de Weg (Bears on the Road) was her graduation film.
It's a short animated film that focusses on the theme of fear and how it can take over your life, if you let it.
The protagonist Theo enjoys nothing more than driving around in his little yellow car. After a car crash, caused by a bear, he wants to get back to his old life, but his growing fear for the outside world stands in his way.
The film's music was composed by
Bas Bouma
from
Room Service Music
and the sound and final mix were done by
Rowan de Geus
.
The soundtrack is available for purchase on Bandcamp
http://basbouma.bandcamp.com/album/beren-op-de-weg-soundtrack
.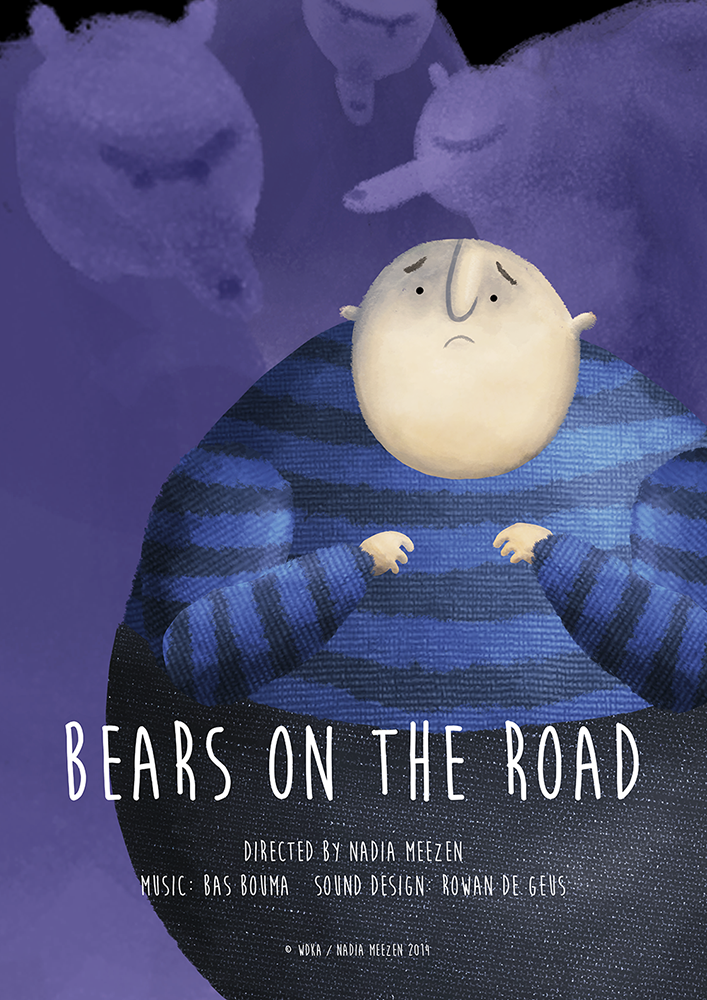 Publications:
VPRO tv guide 2015 #11 "Holland Animation Film Festival" attachment,
interview "Nieuwe Makers" (New Creators) article
.
Expositions:
January 31st until May 10th 2015
MOVE ON...! 100 jaar animatiekunst (MOVE ON...! 100 years of animation art)
Category Jong Talent/Young Talent in Kunsthal Kade, Amersfoort, the Netherlands
July 22nd until September 14th 2015
animation video-exhibition "Ceiling"
Solyanka VPA (video/performance/animation) museum in Moscow, Russia
Festival Selections:
Nederlands Film Festival
, September 2014 in Utrecht, the Netherlands
Animage Animation Festival
, September 2014 in Recife, Brazil
Primanima World Festival of First Animations
, October 2014 in Budaörs, Hungary
Klik Animation Festival
, November 2014 in Amsterdam, the Netherlands
The World Animation Celebration Short Film Festival, November 2014 in Los Angeles, the United States
Animated Dreams
, November 2014 in Tallinn, Estonia
İstanbul Animation Festival
, 2014 in Istanbul, Turkey
Stukafest
, February 2015 in Rotterdam, the Netherlands
Anima Festival
, February 2015 in Brussel, Belgium
Holland Animation Film Festival
, March 2015 in Utrecht, the Netherlands
Athens Animfest, March 2015 in Athens, Greece
Animated Spirits Festival
, April 2015 in New York, the United States
Chilemonos Animation Festival
, May 2015 in Santiago, Chili
Zlín Film Festival, May/June 2015 in Zlín, Czech Republic
Lviv International Short Film Festival Wiz-Art
, May 2015 in Lviv, Ukraine
Countryside Animafest Cyprus
, July 2015 in Nicosia, Cyprus
Animateka
, December 2015 in Ljubljana, Slovenia
Other screenings:
ZienInNoord
at CineNoord in Rotterdam, presentation + screening of Bears on the Road before 'the Secret of Kells' (NL)
Ethiopian Airlines
short film program, cycle from July to September 2015
Norwegian Airlines
short film program, cycle from July to September 2015
Breaking Ground at Kriterion
, short film program themed "On the road", October 15th in Amsterdam, the Netherlands